The Heartliving Hour with Dr. Cynthia Bischoff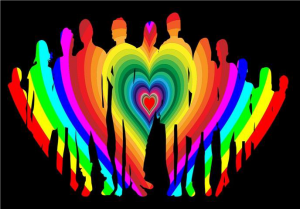 Hearts in sync on Zoom!
The Heartliving Hour program was launched in May and has received excellent reviews! The next program to sign up for will be delivered in July.
Sign up now to secure your space and to receive the link you will need! Program dates, topic, and three payment options are explained in this message.
We are beginning our third month, and we have attendees now from eight states!
Our JULY Heartliving Hour will focus on "Awakening the Power of Your Intuition!" 
We will meet LIVE for FOUR of the five weeks in July as follows:
Wednesdays, 7:00-8:00 p.m. on July 1, 8, 15, and 29 (omit July 22).

Thursdays, 12:00-1:00 p.m. on July 2, 9, 16, and 30 (omit July 23).
To awaken your intuition, Cynthia will focus on the following concepts and exercises:
Basic principles of intuition—how it works and how to access it;

Synchronicities and intuitive signals and how to use their power in your life;

Exercises to test your ability to predict outcome and understand your strengths;

How to create and use a diagnostic room in your mind;

Ways to remain in flow in order to manifest more easily and fully;

How to use "dream incubation" to allow a solution to emerge through a dream.

Each class will end with a guided 10-minute hypnotherapy to increase your intuition!
Details:  You sign up for the month only, and each month features a different topic.
Zoom is a free, easy-to-use app that will work on your computer, iPad, or iPhone. It will capture Cynthia speaking to you live on video as she shares her wisdom with you in the one-hour program each week. Learn from the comfort of your own home!
Once you register, you will be sent an email that provides you a link to Zoom with instructions on how to be present on Zoom for the program below that you have chosen.
ABOUT CYNTHIA:     Dr. Cynthia Lynch Bischoff, international life coach, author, radio show host, and motivational speaker will host The Heartliving Hour on Zoom. With 40 years of teaching experience and 22 years as founder of her motivational business Heartliving™, Cynthia will share her extensive wisdom to help you embrace life's lessons and navigate your life's journey. Cynthia has worked extensively in the U.S., Japan, and Europe teaching her Heartliving™ methods designed to help you live your life more fully. She has helped thousands transform their lives.
TO REGISTER
Read all the following:
I.   VIEWING OPTIONS FOR JULY: Choose one of the three options:
___Wednesdays, 7:00-8:00 p.m. on July 1, 8, 15, and 29 (omit July 22)….$50
___Thursdays, 12:00-1:00 p.m. on July 2, 9, 16, and 30 (omit July 23)…..$50
___Unlimited Access to ALL HOURS Wednesday and Thursday …….….$75
While the topic each week on the two different hours will be the same, the viewing is live so the delivery each week may vary slightly in content. Unlimited access allows you to choose your viewing time or to watch both hours each week for the whole month. The fee indicated is the full amount due for the entire month of sessions for that option.
II.   PAYMENT: To register, you may choose one of the following options for payment.
Venmo:  If you have a Venmo account (which you can do through the Venmo app), you can pay Cynthia under her vendor name: @Heartliving.  Be sure to let her know your name, email, and phone number.
PayPal: If you have a PayPal account, you can pay Cynthia under her vendor name: cynthiaheartliving@gmail.com.  Be sure to let her know your name, email, and phone number.
EMAIL:  Email cynthiaheartliving@gmail.com and set up a method for her or her assistant Diane to take your name, phone number, email, and credit card information over the phone.
No refunds apply.
III.  REGISTRATION INFORMATON:  Important Note:  Whatever method of payment you use, be sure to email Cynthia at cynthiaheartliving@gmail.com to provide the following information:
Your name, email address, and phone number . . . and your chosen viewing option and payment option.  Remember that Cynthia will need your email in order to send you the Zoom information.
Questions?  Contact cynthiaheartliving@gmail.com.  The Heartliving Hour is open to anyone who is seeking guidance on life's journey!