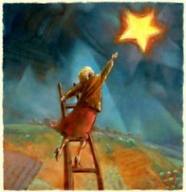 You have probably thought about what you want in different areas of your life, but have you taken time to choose an area and set a goal for yourself?
When you set a goal and know with clarity what you want to achieve, you can know where you want to be and thus concentrate your efforts. Here are some to tips on setting a goal:
If you truly want to achieve a certain goal, begin by writing it down. You will then have a more intimate relationship with your goal.
Try writing your main goal in one sentence so that it is succinct and clear. This may take a few moments to narrow it down, so take your time and just get it to where you feel good about it. You may begin "My goal is . . . ."
Be both inspired and excited about what you want to achieve and realistic about what you know you will commit to doing.
Work with the journalist questions as you write your goal: who, what, when, where, why, and how?
For example, if you want to become more physically fit, what would you do and how would you be?

Who: you
What: exercise to become fit; go to the gym
When: exercise 3 times per week on specific days at specific times (otherwise, you will not know whether or not you have met your goal)
Where: exercise at a specific gym or location or in a certain way
Why: to physically improve your body, but also to feel inspired and in greater health
How: schedule exercise dates/times and COMMIT to keeping your word.
So your goal may now be:
My goal is to improve my body by committing to exercising at One Life Fitness three times each week on Monday, Wednesday, and Saturday from 5-6:30 p.m. for the next six months. I intend to tone up and lose 20 pounds.
Your goal should be measurable. Main goals can have "sub-goals" (I intend to tone up and lose 20 pounds).
It is sometimes helpful to have an "accountability partner" who may also wish to achieve a goal. This person may not have the same goal as you, but you can hold each other accountable by agreeing upon dates to check in with each other on your progress. Be each other's cheerleader!
When you achieve your goal, be sure to celebrate your success and reward yourself in a healthy and positive way.
Setting and achieving your goals builds your self-confidence and gets you where you want to be!